Today I just started to build a WordPress blog  in English for several reasons: To enable also my non-German speaking (and hopefully english-speaking) friends outside white-sausage-village in Bavaria / Germany all over the world to follow my posts and to practice my English as well. Feel free to tell me about my bad English, either via comment or even personally; but I would also appreciate, if you are going to tell me in case you like to read my blog;)I was also thinking to start this blog because I am going to travel the Philippines again coming March / April 2010. So I will be able to write down my impressions on this trip right away in English language without having trouble writing German articles while using an English keyboard. First, I want to upload some of my favourite pictures I collected so far during my trips around the Philippines: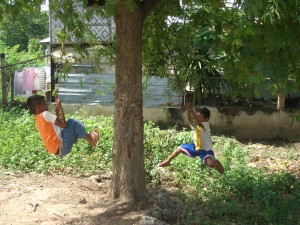 For example those children playing in Lapu Lapu City / Cebu. It was just fun to look at them laughing all the time and just being happy. This picture was taken in September 2008, and I am pretty curious, whether I will be able to meet them again. Cebu City and its surroundings are famous for being home to many (many!) children. Sometimes I got the impression that an average family over there would at least consist of six kids and the two parents. Maybe it is rather 8 kids or something.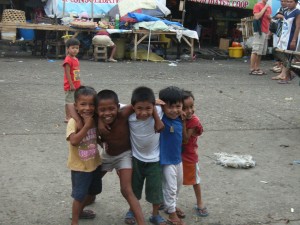 The next shot was in the famous Carbon market in Cebu City. I was travellig with Julian, a friend of mine who also got inspired by the Philippines and even made a few trips more to that wonderful country since then. My other companions were my brother Mel, Flo and Sarah-Lena.
My brother also did a road trip along the east-coast of Mindanao which I also want to do once in a while. Mindanao is my so-called second home area: the non-German part of my family is coming from that region of the Philippines. To conclude my first article, I want to post a few more pictures of Mindano taken by my brother, who was joining Julian in March / April 2009: