Yesterday, I was able to make a new personal best time at the "Run with Venus" event in Cebu City; I did not really expect to be able to finish under 1:40 h, but obviously my training during the last weeks was not too bad and I am quite happy with the result:)
The start was around 4:35 AM which means that I had set the alarm for 3:30 AM, but I woke up around 3:00 (!) already because of a too loud aircon in the hotel room. I was fine after about 6 hours sleep, had two bananas for breakfast and went to the Ayala Terraces together with Bea who joined her first running event (6 km run).
It was still dark and even a bit cold, almost no traffic in the streets – Cebu City was still sleeping; even that city can be really nice without the daily smog under the Philippine sun…
This time, I ran the half marathon without my Garmin GPS watch; I had given it to Bea who used it to run a regular pace with about 6:30 min/km as planned – and she was even able to run a bit faster and finished her run under 39:00 min which is an awesome achievement taking into account that she just started running a bit more than two months ago!
My plan was to finish under 1:40 h and to beat my personal best time for a half marathon – so I just tried to run as fast as possible. The first kilometer was quite ok, I overtook some other runners and had only a few more in front of me for the second kilometer.
I must have run that in about 4:20 min and I was wondering a bit that I was not exhausted at all; though, I was quite sure to not be able to keep that pace for the next 19 km. I ran the first 7 km in 32 min and thought: 3 x 32 min is about 96 min – so I could make it today!
I finished the first 10 km in 46:15 min which is definitely my fastest 10 km time so far and I was quite optimistic about finishing with a new personal best time; but then the run got a bit harder: we had to run along the famous streets like Gorordo Avenue where a lot of jeepneys, cars and other vehicles joined our way.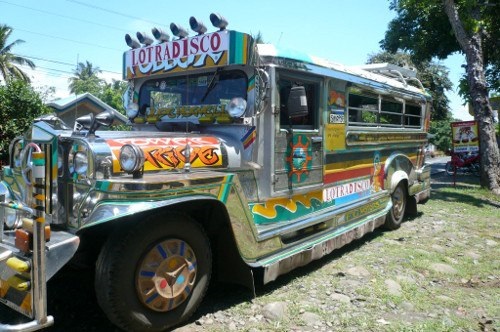 The running course went up and down – for the first time I realized how hilly Cebu City really is. And so my pace was a bit slower and I found myself struggling a bit to keep my running speed up. After the first 8 km I had to run alone and till the finish line there was no runner I could overtake.
Sometimes, I really did not know where to go, but I managed to find the way and did not get lost – thanks to the race marshals with their flags:D
My TIMEX watch told me that I had about 59 min left for the last 12 km – so I had to run considerably faster than 5 min / km in average to arrive at the finish line under 1:40 h. It was not easy to do that, but I just kept going running.
With 3 km left and a time of about 1:26 h on my watch I had to run a bit faster than 4:40 min in average; I don´t know how I was able to do all the math but after about three years of serious training, I got used to it while running. So I just ran a bit faster and was really happy about the fact that especially the last kilometer was all downhill which I ran faster than 4:20 min.
The running results for the Run with Venus event are not yet online, but I finished in 1:39:54 h and made Top 15 of more than 200 runners. All in all more than 1000 runners joined the event on July 7, 2013 and some of the local pros showed up as well.
So, Cebu City seems to be a good venue for me and I am really looking forward to also beat my marathon record (3:36:37 h) next January where I want to run under 3:30 h. My next event is probably the Maasin Triathlon on August 11, 2013, where I definitely will compete for the Top 3 again.
The swim will be 2 km and after a few sessions in a 25 m pool during the last weeks in Panglao, I want to finish the swim section in about 37 min; the bike course is 25 km and the running distance is 10 km. That´s why I will focus on improving my 10 km time and do some decent speed training sessions during the next weeks.
But of course, I will relax a bit for now and celebrate a little bit this week: turning 30 happens only once in life:D
[Update on July 9, 2013]
It seems that the race organization of the Maasin City Triathlon changed the distances to 1,5 km swim, 30 km bike and 10 km run; they just have to add 10 km to the bike course, then we would have the Olympic distance triathlon. Anyway, I am looking forward to it and might again start as the "rogue trek bike triathlete";)
The official results for the 21 km "Run with Venus" race is online now and was shared via facebook; I uploaded it here with a higher image resolution – you can find the overall-ranks no. 1-30. All results from rank 1 to 241 can be found here.