Yesterday, I turned 30 and one of my friends told me via Facebook that this marks the "Saturn return", also known as "Sade Sati" in Hindu astrology which is related to a change in life – be it in a good or rather ungood way. Well, I somehow liked that idea but as I am not really believing in too much metaphysical stuff, I also did not give too much meaning to my 30th birthday.
So, I started the day early morning with working online; I do love to grow my internet business – even on such remarkable days as a 30th birthday to many people is – or let´s say: because it was a special day, and especially on these days I love to work.
Many people would not understand this, cause unfortunately to many people their work seems to be something that should be avoided as much as possible; I got to know many who would live from weekend to weekend – the days in between would not count as much, because of work they had to do but obviously did not like too much to do.
I don´t know whether that is only a phenomenon found in Germany; I think it is also found in other countries – even here in the Philippines. One of my few guests yesterday – I welcomed exactly two (I have not told anyone about my "special day") told me about his work here in Lapu-Lapu City.
He explained to me that he works regularly, often over-time, but he earns not more than 6000-7000 Peso which is an equivalent of 125 Euro or about 4-6 Euro per work day. Far too little to live, but still too much to die. For about five years now. No wonder, that he really does not like to work anymore – but he has to.
I could give many more examples of really hard lifes many people live here in the Philippines, but where to start and where to stop? I am quite happy as of now, that my project "Please help Mossche" (Facebook) was supported by a few people now and we are making progress.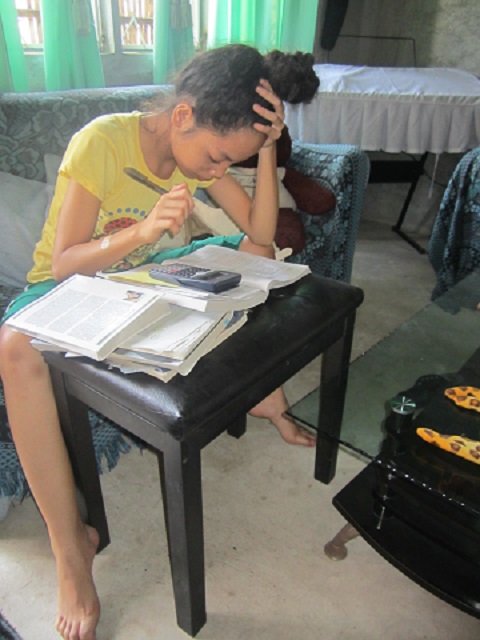 We collected about 15500 Peso so far and we need an estimated amount of 8000 Peso per month. I just hope that we will find ways to raise the funds so that she can finally graduate…
After I worked for a few hours yesterday, I did my usual training run here in Cordova, passing by some neighbouring barangays like Alegria, Dapitan, Pilipog and San Miguel. The children sometimes look at me and shout something like "jogging, jogging!" and would imitate me; some might know me already and would wonder about that crazy guy who is running a dozen kilometers across Cordova. I enjoyed it quite much, though I still felt the half marathon run from last Sunday in my legs.
I tried to relax them a little bit on Wednesday, cycling to the Cebu City Sports Center where the Cebuanos have a 50 m swimming pool. It was quite an achievement to finally arrive there – just too many one ways in the City of Cebu, too much traffic and smog along the big and famous streets like Osmena Boulevard and M. Cuenco Avenue (National Road).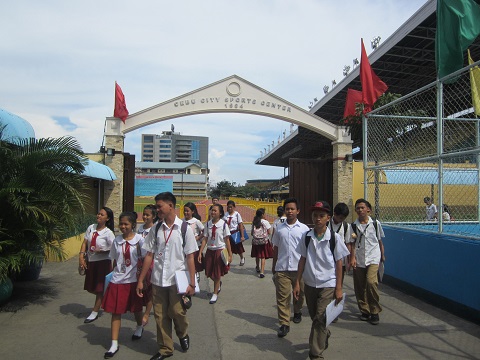 But I was really happy being able to do a 2,5 km swim training – though it was sometimes a bit difficult to not bump into other people who were floating like lost drift wood in the pool; well, I am just too much used to the a bit more organized swimmers back in the Olympic pool of Munich;)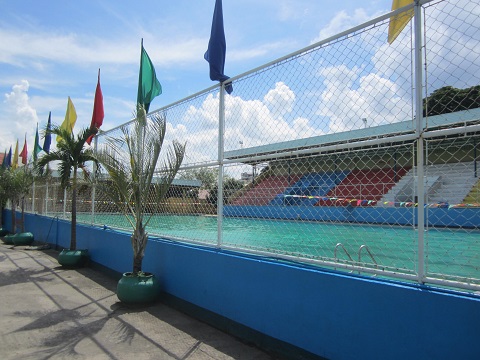 After my birthday-run, I had a dinner in the dark – it was a "brownout" in Cordova – and we had no electricity for about one hour. So, our meal turned out to be kinda romantic candle light dinner with rain and thunder outside: my helpers and me had some fish soup (tinola), shrimps, munggus with kalabasa (mung beans with squash) and rice, of course. Quite a nice birthday meal (though my helpers did not know it was).
So, eventually, my 30th birthday turned out to be a very usual but also special day here in the Philippines – and I liked it very much. I got many e-mails and more facebook messages from friends all over the world and I have to say "thank you" again, for you also made my day very special.
Tomorrow, we will celebrate a little bit on Pamilacan Island, one of my favourite Philippine islands, and say hello to the dolphins and sea turtles again. Life is wonderful, and I am very thankful for that:)