First I want to say: I am fine! Thanks to all my friends who were worrying about me after they had heard about the earthquake(s) yesterday here in Bohol. The aftershocks are still going on, and while I am writing this article, I feel them every now and then.
The main earthquake was quite strong (7.2) with its epicenter a few kilometers away from my place here near Alona Beach, Panglao, Bohol. Some of my friends also felt it in Dumaguete, Cagayan de Oro and Cebu City, of course. Not only here in Bohol many people died and buildings were damaged (some of the oldest churches in the Philippines collapsed), but also in Cebu.
Well, we live on the ring of fire and things like that happen; I am very sorry for all the dead and injured people and all the damages caused by mother earth, but earthquakes are definitely not rare here in the Philippines.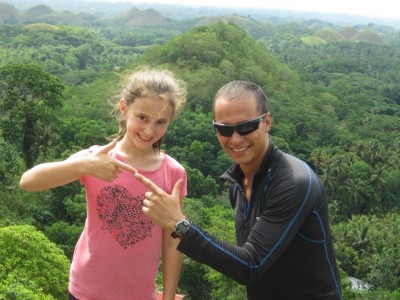 And again, all the news are full with pictures of destruction here in the Philippine islands; and this is what really bothers me ever since. It is mainly the "bad news" featured in (Western) media so that also many people I know would ask me: "are you not scared to live in the Philippines? There are many poor people and rebels, there is a big war between muslims and Christians in Mindanao (is it really?!), landslides, floods and earthquakes", of course.
Yes, in a way true, but…I just want to repeat what Waway Saway of the Talaandig tribe once told me when I visited him with my best friend Jakob back in his place in April 2010: "we should manifest the good things, not the bad things". In the media there is a tendency to focus on the bad things. So this is also why I am not really reading newspapers and consuming a lot of news anymore nowadays:
I know that it might be 70-80% about crime, accidents, war, (unsolved) problems, political corruption (at least here in the Philippines), then maybe 10% business and sports and then a bit of culture (if you are lucky). It is not that I want to close my eyes in front of all the issues but I have a different approach to solve problems.
Anyway, I will go on with writing about the good things here in the country which definitely outweigh the bad things. I just published my article (in German) about my tour across Dinagat Islands: http://www.philippinen-tours.de/dinagat-islands-kisses-islets-bonsai-regenwald-und-viele-abenteuer/. It was part of the 4 weeks cycling tour Bea and I did last August / September.
And yeah, life goes on here in Bohol, and we did our usual swim training here in the pool (which was not cleaned yesterday due to the earthquakes) but we had a good session today. Bea did her first triathlon last October 6 in Oslob, Cebu, and wants to train for the Olympic distance now.
I finally got a road bike here (a Scott S50 Speedster) and will prepare myself during the next weeks for my first half ironman in Subic at the Challenge Philippines on February 22, 2014. I will do my training mainly here in Bohol in between the Chocolate Hills. Some of them were slightly damaged after the earthquakes but they are still here and one of the most wonderful sights in the Visayas.
And I hope that there will be many friends and tourists coming to visit the places here in Bohol: especially now the people need a lot of support to rebuild the structures and be able to overcome the destruction after the earthquake.