Sometimes you´d better stay in bed and sleep in – especially, if you are planning to wake up at 2:15 AM after a very short night to join a half marathon when it´s pouring with rain. But if you are crazy enough, then this would never be an option…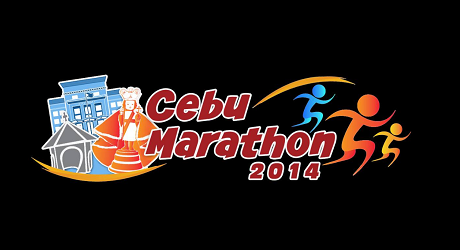 So, I woke up around quarter past two to have a short breakfast (1 very delicious Mango) and no coffee, because I had neither milk nor any time left (and I like my coffee with milk and enough time to enjoy it). After I packed some more dry clothes (it has been raining cats and dogs for almost one week now with no break), I left home around 2:35 AM to be at the site about one hour later.
As planned, I arrived at the site (Ayala Mall, supposedly) around 3:40 after a nice 20 km warm-up bike ride – just perfect to prepare myself a little bit for the gun-start at 4:00 AM. I parked my bicycle at the parking of Ayala Mall and was not really wondering about the fact that I hadn´t seen any other runners so far – they were probably hiding somewhere under umbrellas or stayed in their warm beds to sleep in.
I ran around the Mall area, also passing by the Ayala Terraces where the runners usually gather before a race (as it was the case at the last half marathon I attended here), but I did not find anyone else. Was the race cancelled?! Was I the only one who has not been informed about that and was so silly to wake up at 2:15 AM to cycle 20 km to Ayala Mall only to find out that the race was cancelled? I couldn´t believe it.
Once more, I cursed the race organisation for several reasons:
1.) the race kit was issued from January 8 to 10 (at Ayala Mall) which caused not only problems for me but also for many other runners who were not able to fetch it – because we just haven´t been in Cebu during these days. I was trying to get in touch with the organizers of Cebu Marathon 2014 but out of 3 phone numbers published on the website, 2 were not working and 1 was always busy.
My e-mail was never answered and also on the facebook page I never got a reply. Cool. So I had to send someone to get my race-kit (thx to Cecile again for picking it up!), only because the organization team was not able to issue the race kit on race-day January 12 which is just usual as far as I know (maybe I am just a bit spoiled, particularly by the German race organizers back home – but I guess that it should not be too much of a problem to issue race-kits on the very race day).
2.) Why did nobody inform me about the race-cancellation? (Of course, it was my fault that I did not realize that the marathon start was not at the Ayala Mall today).
So I decided to try and find the marathon start – it could not be that difficult to find a few hundred or even thousand runners, hey? So the first guy I asked on my way to the city centre told me that the marathon is just "staight" and then "right side". Ok, let´s go! After cycling another 5 km I got lost and asked several other Cebuanos who
A) had either no clue
B) were drunk after just leaving one of the many clubs and bars
C) wanted to send me back to where I came from.
But D) told me "IT park!" And then I remembered that the start was at Cebu IT Park. But where was that IT Park, again? I had no clue. I was cycling a bit further and finally reached the Osmena Circle where a bunch of Africans (probably Kenians) crossed my way and I thought: "Here we go run, the first group of the marathon runners – finally!" I just followed the way and arrived the marathon start after another 5 km. About 20 min after race start, I also joined the race as probably last runner in the field.
But anyway, I only wanted to do an easy training run as preparation for the Challenge Philippines in 6 weeks. My minimal goal was to finish in about 1:50 to 1:55 h – but I also failed with that. The reason was that I made friends with Garry right from the start who also had a quite late start today. After he mentioned "I know you, I saw you swimming at the Holiday Spa!", I got curious and asked him some questions.
It turned out that Garry is also a triathlete and a very passionate runner who already joined some half ironman races like Cobra Ironman and Tabuelan and even finished the Cebu ultramarathon (100 km). Very inspiring. So we had a very nice chat about this and that and our next races this year, overtaking a few hundred runners during our Sunday morning talk.
We enjoyed the music along the way and had a great training run. After 1:25 h, Garry opted for a short emergency pee and I tried to finish my half marathon at least under 2:00 hours after 15 rather "lazy" kilometers. I ended up running my slowest 21,1 km run so far with about 2:03 h after finishing my fastest half marathon here in Cebu City.
But that is still ok for me, having also cycled about 100 km during the last 24 hours. So the preparation for my first half ironman with 1,9 km swimming, 90 km biking and then 21,1 km running at Challenge Philippines, Subic Bay, next month goes on.
Garry told me about another triathlon (Olympic distance) in Dalaguete on February 8, just two weeks before the "big race". Might just be another opportunity for some more (very inspiring) "fails":D