Some time ago, I have been asked about what's inspiring me? I had mentioned only two important books that really influenced me during the last years. One is Murakami's book about running and the other one is Covey's 7 Habits. But then I had to think about a few other things that keep on inspiring me, and since I think that it is 1.) important to know about one's sources of inspiration and 2.) important to get as much inspiration as possible, I decided to write a longer article about it. Maybe not only for me but also to inspire other people.
The Philippines
I know that there are a few people out there who are reading my stuff and who are even enjoying it. I find that amazing, especially when I get (positive) feedback and when people get back to me telling that they got inspired by me. This is particularly true when it comes to my second home, the Philippines. Together with my father and my brother, I have created Philippinen Tours back in 2009, which is now one of the most influential websites in the German speaking internet when it comes to traveling the 7107 Philippine islands. We are currently counting about 300 unique visitors daily, have about 2000 newsletter-subscribers and more than 10000 fans on Facebook.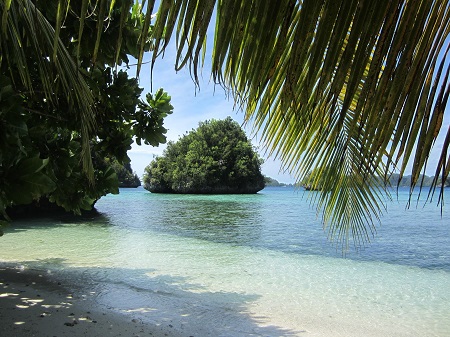 Together we have published the first edition of our travel guide which is by far not complete yet but we will do our best to improve it and present a second edition in 2016 with even more helpful content. The project, or rather movement, is not only inspiring me but also thousands of other people. Our mission is to bring people together, encourage cultural exchange and help develop sustainable structures in tourism but also in terms of education. We are establishing a network of reliable people working in the "green" tourism industry and run a tour company that wants to make a difference and show people & country "off the beaten path".
With our Philippinen Tours Scholarship Programme, we support students in the Philippines who don´t have the financial means to cover their expenses. Currently, we are able to help two college students in Cordova, Mactan Island, but might support also a third candidate, soon. 2015 has been the breakthrough for Philippinen Tours, and we have sold two dozen tours for 2016 already. This year will be even more exciting, and we will be even more "international".
Triathlon
My last post has been written more than one year ago and was dealing about my way to Ironman Melbourne. The event is already history and the next big races with Challenge Melbourne and Challenge Roth are coming, soon. Marathon- and triathlon-training has become a very important part in my life, and helps me to stay on track in many areas of life. Especially the goal-setting part taught me a lot during the last 5 years.
Only with clear goals in our mind, we can get the most out of our potential, increase our success and be very effective and efficient. Or I should say, that this is true for me. I had phases in my life, when I rather felt like a ship in stormy waters without being able to sail into one direction. But that has clearly changed, and I am very happy about it because it gives me strength and a lot of motivation, day by day. I was even able to inspire other people to get into running and also into triathlon training.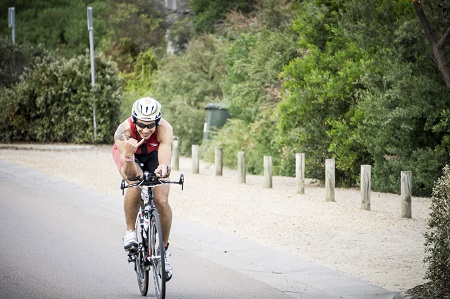 I don´t want to miss the many hours I have been training with my girlfriend and friends, sharing great moments, achieving new goals. 2015 has been my most successful year as a triathlete with my first Ironman finish under 12 hours, a half ironman finish under 5:30 hours and my best half marathon so far with 1:36:15 h. 2016 started with a new personal record for the half ironman distance with 05:08:15 h at Challenge Melbourne and my first sub 2:25 h for an Olympic distance in Mordialloc. My new goals are to finish the full ironman distance in 10:45 h, the half ironman distance in 4:50 h and the marathon in 3:30 h. And I do want to and I will qualify for the Ironman 70.3 World Championship;)
Literature
…has been a very important part in my life. I have read hundreds of books but I want to mention five titles that probably had the greates impact in my life so far:
– the afore-mentioned "7 habits of highly effective people" by Stephen Covey
– "Think & Grow Rich" by Napoleon Hill
– "Aphorismen zur Lebensweisheit" / "Essays and Aphorisms" by Arthur Schopenhauer
– "What I Talk About When I Talk About Running" by Haruki Murakami
– "The Slight Edge" by Jeff Olson.
Good literature is essential and helps me a lot to get new ideas, motivation and new inspiration. I usually mark the sentences and paragraphs that seem most interesting to me. I also have a few books full with excerpts and I am always happy to read them again every now and then. But compared to 10-15 years ago, I read differently and also different books. I am not too much anymore into novels but rather into self-help, entrepreneurial and personal development books; and I also try to take action, once I have found something very useful that I could integrate in my daily life.
For example: since I have started to write down clear goals tied to a clear timeline, I am far more productive, efficient and successful. This brought about big changes in my life and I want to continue walking on this path and live a directed life with clear goals and plans in my mind. Reading novels in my teens and twens was delightful but did not really make me productive. Moreover, studying literature at uni for a few years showed me somehow that I want to do more in life.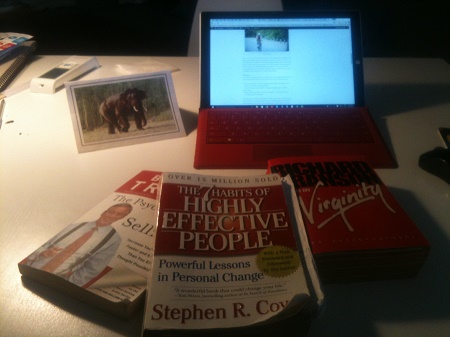 I have found and read new awesome books in 2015 and 2016 like "The Slight Edge", "The Lean Startup" by Eric Ries (both via @davidpagotto), "The Element" by Ken Robinson, "The Psychology of Selling" by Brian Tracy and "Start With Why" by Simon Sinek (both thanks to Ray). I have started to read one of John Maxwell´s books and next on my list is "The Millionaire Next Door" by Thomas J. Stanley. Not to forget, I am reading Covey's 7 Habits for the 3rd or 4th time at the moment, since I think that this is by far the best book when it comes to personal development, leadership and setting the right goals.
Friends
I am very thankful for the friends I have in my life. I consider myself very lucky that I have people that I can really count on and that inspire me a lot and that I hope to inspire, too. Some of my good friends are thousands of miles away from me in Germany but even though I only meet them maybe once every 1-2 years, I can always relate and feel close to them. With Skype, Facebook and E-Mail, there are good tools available to also keep in touch at least virtually in the meantime.
But also "making friends" is very important, especially in new environments. I have to admit, that I am sometimes a real hermit crab and I am quite selective in choosing friends. But then, I value the time spending great moments with friends and try to "be there". For me, it is important to make enough time to keep in touch with friends, get inspired and also inspire them.
Bea & My Family
My fiancé Bea is not only supporting me in everything I do but she also inspires me. We have spent awesome years together, truly the best so far in my life, and we have great plans for the future. The same is true for my family, and we are helping out each other with a common vision in mind which is a wonderful thing. I am very thankful for that and want to grow even more with them.
People I work(ed) with
I am also lucky to have (had) some great colleagues working in my team like Shounak who is one of the most prolific and inspiring guys I know when it comes to online marketing, SEO, PHP and related topics (and good food!:D). Or David of SIXGUN who inspired through his book recommendations, digital marketing expertise and Google Analytics skills and DK who was always full of jokes and super helpful in any situation.
Courses
Already as a student (mainly of historical sciences and philosophy) at the LMU Munich I was always interested in other courses than my major(s) and minors. I have visited lectures and joined courses about literature, business administration, psychology, cultural anthropology, political sciences, economics and informatics. I have attended web design courses, courses about self-employment and many more and I think that all of them gave me new input and inspired me. Nowadays, I am mainly doing online courses on iversity, codecademy, lynda and similar websites.
It is very important to me to learn something new and improve my skills every day, and professional courses are a great way to achieve that.
Music
Music has inspired me as well, especially as a teenager. I used to play much more guitar back then but I definitely want to get back into the habit and play it at least once a week again. Some of the most influential bands and artists for me were
– Muse
– Arcade Fire
– Radiohead
– David Bowie [R.I.P.]
– BRMC
– Deep Purple
– Die Sterne
– The Libertines
– The Strokes
– Tocotronic.
Writing
In my youth, I wanted to become a writer and / or a journalist. After an internship at a Munich city magazine back in 2007, where I have worked 3 months full time for a "salary" of 180 Euro per month, I was "cured" from this wish. However, I still enjoy writing a lot. I have written a few books full of notes, ideas, travel diaries and quite a few blogs. I have started to write my first novel more than 10 years ago (still in the making), published the first version of our travel guide in October 2014 (2nd issue to be released in late 2016), and I am planning to write books about internet marketing, ironman triathlon and the Camino de Santiago.
Internet / Bloggers
Lastly, one other great source of inspiration for me has always been the internet. It enables me to travel a lot and work wherever I want as long as I have access to the digital world. I have found (and were found by) many webmasters and bloggers during the last years and created meaningful relationships with some of them, even in the "real world". Great bloggers I follow and work with are Sebastian who runs with www.phuketastic.com one of the most influential websites about Phuket and Thailand and also writes about his own goals, inspiring me and other people to find their true potential; Stefan who runs with www.faszination-suedostasien.de the probably most influential website about travelling South-East-Asia in the German speaking internet and my personal coach Tim who regularly writes on www.oztriathlete.com.
In short: Inspiration is almost everywhere, at least for me, and I am very thankful for that. It took me about half a year to finally finish this post, and I am quite sure to update it every now and then, since I constantly find new interesting things that inspire and motivate me and add value to my life and even other people´s life. Please leave a comment to share your own sources of inspiration to make the article even more inspiring:D Thank you!
[Update on 2 April, 2016]
I have just come across another great inspirational post by John C. Maxwell about how to find your passion that I find worthwile reading and sharing: check it out on www.success.com. Please also visit my friend Robbie's new website – he is an expert for Italian / English lessons.