Today, I woke up around 5:30 AM as usual to do my morning run here in Cordova, Cebu. I would run 3 times every week to prepare myself for bigger events like a marathon or a triathlon; so at the moment, I am running 3 times à 10-15 km a week, cycling as much as possible and swimming 1-2 times for about 60 min a week.
I already got used to the Filipinos here who would consider myself as an "Americano" and would whisper something like "jooooggging, ooooyyyy…"; I also got used somehow to the smoke along the streets every now and then – a mix of burnt plastic, leaves and everything else which creates a sweet and toxic smell – and the Philippine sun which is even burning during morning hours and causes a salty layer of sweat on my skin only after a few minutes of running.
I learned more about the microcosms here within the municipality of Cordova, ran across some of the 13 barangays like Dapitan, Pilipog, Alegría, San Miguel, Bangbang, Catarman, Day-as and, of course, my home-barangay Buagsong which is also called "the Place of Bakasi" named after a small eel fishermen are collecting everyday. They say that the Bakasi is the main reason why there are so many children here in that area.
And it happened only two days ago that I was talking to a fisherman´s wife who recently had serious business talks with a clever Japanese willed to import 10 kg of Bakasi every week to make sure that also in Japan people would enjoy the magic of Bakasi, have a more potent love-life and probably also more kids.
One of my goals this year was to compete in the Ironman 70.3 here in Cebu on the 4th of August. But I only realised some days ago that the event was already fully booked within few days after the registration was opened; strange somehow, because during the last years, the Ironman Philippines was never fully booked – and all of a sudden the whole world wants to join probably the greatest triathlon in Asia (so they say).
I was happy to talk with Jens Funk from Bugoy Bikers yesterday who already told me about several other triathlons in the Philippines, especially here around Cebu. So there are several good options for me to compete in triathlons with olympic distance and even (almost) the half ironman distance like the Tabulean 111 (2 km swim, 88 km bike and 21 km run) on June 16.
Another good option might be the Dipolog Centennial Triathlon (olympic distance with 1,5 km swim, 40 km bike and 10 km run) on May 19, 2013 which takes place in only 12 days from now, but after my second marathon-finish last February and a lot of training after that, I still feel fit enough for that distance.
Wherever and whenever I will compete here in the Philippines, I am quite sure that it will be a lot of fun:D The triathlon-scene seems to be booming here on the Philippine islands and I would love to be part of all that. After I picked up my Bergamont bike in Manila last thursday (a friend of my mother´s was so kind to bring it from Munich via Doha to the Philippine capital – thanks again to everybody who made great efforts to send that bike to me!), I am able to finally do also my cycling here in Cebu and discover the city from a totally different perspective than from a tricycle, a Jeepney or a van etc.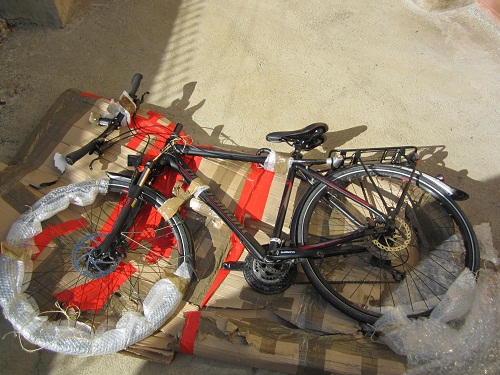 Swimming is much easier, cause I am only a few minutes away from the sea, and I already found a fisherman who would join me with his small boat ("sakayan") for my morning swim, so that I don´t have to fear drowning in deep waters:D